I'm hosting a "challenge" on my Facebook page right now. If the page gets up to 200 likes I will post my entire one shot manga, "A Day i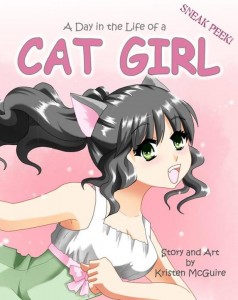 n the Life of a Cat Girl" for free for everyone to enjoy. You can buy the hard copy comic at Mini A-kon in January 2013.
Also I will have my convention schedule posted soon. I'm still confirming two cons, but as soon as I confirm them I will post it here and on my Facebook page. As of right now my next appearance will be Micro A-kon (Not to be confused with Mini A-kon) which is in Burleson, TX in December. I will be hosting a panel on manga making. I can also confirm that I will be a guest at Project A-kon in June 2013! read all about it on their website. By then I will also have Chapter Five of Enchanted for sale so make sure to stop by and pick it up!
As always thanks for reading guys!