AnimeFest 2012 was the most amazing con ever! Wonderful guests, wonderful fans and wonderful staff! I'm so excited about all of the Enchanted fans who swung by the table. It was so great to see everyone!
I got to host two panels on comic making. I hope that everyone learned something useful or at least had a good laugh. The Opening Ceremony was truly awesome!
I made some ne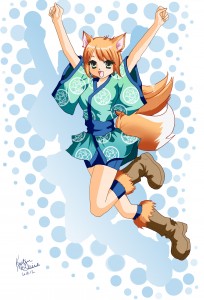 w friends (Shout out to Greg, Pat, Devin, Lawrence and Matt)  and definitely some unforgettable memories (and the pictures to prove it!) I got to meet Arina Tanemura who has had such a huge influence on my work and my desire to draw comics.
I had a radio interview with the Nerd Show. They were so wonderful. We had a lot of laughs and I think I taught them some very useful Romanian. (They know what I mean, heh heh heh.) You can hear the interview on the Nerd Show's website.
Of course it was great to see all my favorite con friends. Bruce, Jen, Lynn, Chris, Ben, Charles, Marissa, Joanna, Megan, Brandon, Ryan, Cap'n, Gwynn, and Lisa it is always a pleasure to be in your company. Cons wouldn't be the same without you!
Last but not least I was so honored that Animefest had me as their guest this year. Animefest will always be one of my favorite conventions! My next scheduled appearance is Micro A-kon in December. I will post more on it later. Until next time everyone!