There is nothing mini about how much fun Mini A-kon was this year! There was an estimated 3, 200 people packed into the De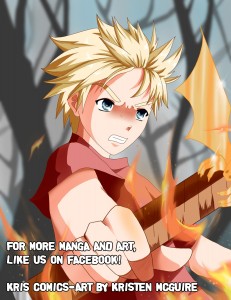 nton Public Library and I drew an estimated 40 people as anime characters. (Talk about your hand cramp!) We sold all but two of the "A Day in the Life of a Cat Girl" comics that we brought, but worry not because I will have more for sale at Ushicon in just TWO weeks!
The comics panel was an awesome combination of seven spectacular artists (including moi) and we had a great time answering everyone's questions about the ins and outs of comic and art creating.
To wrap things up I was live on the radio with the Nerd Show Sunday night to talk about all of the cool things that happened at Mini A-kon. You can check out the broadcast on YouTube here.
For more manga, art, and convention news like us on Facebook under Kris Comics – Art by Kristen McGuire!
Here is our convention/ scheduled guest appearances for 2013 (so far ;-D):
Ushicon – February 8 – February 10, 2013
Winngate Inn, Round Rock, TX
http://www.ushicon.com/
—
A-kon 24 – May 31 – June 2, 2013 at The Hilton Anatole Dallas
2201 N Stemmons Fwy Dallas, TX 75207
http://www.a-kon.com
—
We will see you at Ushicon! <3